Miracle of Lourdes: between quietude, healings and miracles
Miracle Or Healing? The differences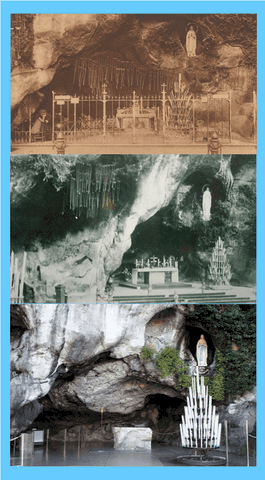 The miracles of Lourdes and the cures in Lourdes: what are the elements that differentiate the 2 situations?

On the outskirts of the Sanctuary, thousands of testimonies are engulfed in the alleys of the Lourdes for decades affirming the inexplicable, the unthinkable miracle of this or that person. Rumors, noises, leaks, hawking spread like wildfire and reason in the minds of visitors and question the officials of the Church.

Is it a miracle? Is this a cure? Is it a remission? Is it a recovery? Is it soothing? So many questions that only medical expertise could answer.

The Lourdes International Medical Committee, made up of imminent international medical specialists, intervenes as soon as it is seized by the Lourdes Medical Office of Findings, on all the particular events relating to these situations. Each file is scrutinized with sustained, careful and suspicious attention, for several years, using the latest analysis tools (MRI, scanner, videopascule ...). The means of diagnosis increases as discoveries and medical and scientific knowledge progress.

The risk of condoning an ubiquitous phenomenon, the fear of indignation and ridicule, push these experts to qualify a state as normal or abnormal only when all the conventional scientific hypotheses have been studied. It is only on the basis of this long process of expert opinions and second opinions, medical reports and reports that the conclusions are advanced and submitted to the Church.

Among these conclusions, two situations arise: normal or explained healing and abnormal or unexplained healing.

First of all, what is healing? It is the complete disappearance of the symptoms of a disease, ailment, a pathology or an injury. As soon as the health and condition of a person for whom the functioning of all the organs becomes harmonious and regular again, conventional medicine speaks of healing.

If this healing is explained through scientific research, biomedical technologies, treatments, surgeries and therapies, it will be described as "normal" or "explained".

Otherwise, if no rational medical, anatomical, physiological, prophylaxis, physical, mental, chemical and medicinal explanation is advanced by these professionals, healing in extraordinary and unpredictable ways will be called "abnormal" or "Unexplained".

So what is a miraculous healing called?


From the moment healing is judged abnormal or unexplained, it is up to the Church to study the character of faith. Competence rests with the Diocesan Canonical Commission which says whether or not there is a miracle. It is the spiritual elements, belief in the divine special intervention, listening to oneself, spiritual transformation and psychological balance of the healed that allow this commission to make its decision, unanimously of its members. One voice against and the miracle will not be proclaimed by the bishop.

Reading this long process of commissions, extended over more than 10 years, we understand why among the 7200 healings known to date, only a little more than 2000 have been observed (normal or abnormal) and that only 70 of them they were baptized with miracles.

It is very likely that this number is below reality. The interminable medical and personal examinations over ten years on average slowed down the goodwill of the cured and led to the abandonment of the procedure.

They consider themselves healed, and, spiritually, that is enough for them.

70th Miracle Of Lourdes: Unexplained Healing Of A Sister
Among the 7200 registered healings at the International Medical Committee of Lourdes, that of a sister nurse of a convent of a congregation of Franciscans was declared miraculous officially the day of the 160th anniversary of the first apparition of the Virgin Mary in Lourdes.

This Sunday, February 11, 2018, AFP receives a statement in which the Bishop of Beauvais in the department of Oise declares "Observing that said healing, was sudden, instant, complete, lasting and remains unexplained in the current state of our scientific knowledge ... the prodigious, miraculous and divine sign of the healing of Sister Bernadette MORIAU obtained by the intercession (...) of the Virgin Mary ".

For more than forty years, this lady has debilitating lumbosacral pain requiring her to wear a corset and splints despite several surgeries. In July 2008, at the age of 69, when returning from a pilgrimage to Lourdes, this faithful "feels an unusual sensation of relaxation and warmth throughout her body" and "perceives as an inner voice that asks her to remove all of its devices. Since then she has been walking as if she had never been paralyzed.

10 long years have allowed the CMIL doctors to confirm the miracle, after many medical examinations, expertises, counter-expertises and scientific meetings.

A 70th miracle of Lourdes is finally unveiled publicly on this great Sunday. In the present state of knowledge of science and medicine, no element has come to bring the least doubt about this miraculous character of this Frenchwoman.

Is it the sacrament of the sick received with oil blessed by the bishop, is it divine intervention, is it prayer and faith, is it the absorption of the water of Lourdes, no know that she element to energize this healing.

Let this glimmer of shadow glide, let us rejoice at this spiritual feat, let us feed this wonderful moment of resurrection, share this magical moment and accept the inexplicable.
Mysteries Of The Miracles Of Lourdes
A documentary by Patrice CLECH and François BARRE produced in 2017 by Pernel Media and broadcast on RMC Découverte on April 2, 2018. He tries to unveil the secrets and mysteries of the miracles of Lourdes.

... The 3rd pilgrimage site for Catholics around the world welcomes more than 6 pilgrim visitors each year, including 60,000 sick and disabled. Wider than the Vatican, the Sanctuary of Lourdes has the largest basilica in the world that can accommodate more than 25,000 people under its roof ...

Why Lourdes attracts so many people? Why is Lourdes the city of miracles? Why in Lourdes can we cure everything from the incurable? Why has Lourdes become in 160 years the world capital of miracles? ...

Interesting report of 01h04!
So Many Healings And Few Miracles
Every month, many testimonies of cures reach the office of the medical disputes of Lourdes. Roby, a young Italian, Jeanne, a young French girl, Gema, a Spanish girl, Véronique, another French girl, Léonard, a Belgian, Francisco from Mexico, Rodrigo from Guatemala, Janine from France, Angela from Italy, Vera from Palestine, Eric Andrew, Stéphanie ..., are among the many people who recounted their light experience in recent months 2017. Suffering from Parkinson's disease, cancer, diabetes, depression, fibromyalgia, Algoneurodystrophy, osteolysis, septicemia, multiple sclerosis ... These people from different backgrounds, from distant cultures, have experienced the same graces, that of light, that of healing, that of Peace. Enter the Sanctuary, immerse yourself in the pool, drink water fountains, cover with water from the source a part of his body, touch the walls of the cave, attend the celebrations, participate in the rosary, pray in one of the chapels, light a candle, think of his relatives ..., one or the other of these actions was the last gesture before the transformation operates. Believers or not, Christians or not, practicing or not, pilgrims or simple tourists, all have been invaded by an immense joy, a growing hope, an emotional power. The long-awaited hope, the dream so imagined, were revealed suddenly without warning. The healing !

In this long list of witnesses, these people are only those who dare to testify, many other visitors remaining silent, modest, keeping for themselves their inner emotions, their flashes of spiritual energy, the bodily heat, the physical relief, the rebirth .

Yet, the number of miracles in Lourdes remains frozen at 69 so far. Even if signs of healing remain unexplained by medicine accepting the evidence of the miracle, the battery of expertise investigated by the Bureau looks like a long and winding path that pushes the slightest doubt that could undermine the credibility of this institution.

Today the number is 69 miraculous cures; tomorrow how much will it be? It does not matter. Let's leave the statistics to the most incredulous.

We know that Lourdes, its places and its water heal every day. This ecumenical place, of an exceptional vibratory level, brings together all the spiritual tendencies and all the holistic sensibilities.

Let's enjoy this freedom of belief and come for the magic of the soul. Let us trust and breathe joy and fraternity in the smallest mazes of this universal mystic theater.
70th Miracle Of Lourdes: A Child Of 6 Years?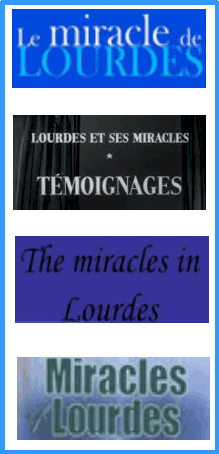 During a pilgrimage to Lourdes from 08 to 12 May 2016, a 6-year-old girl from Italy was suddenly cured of profound deafness.

Immediately, his entourage wished to declare this unexplained cure to the office of the medical disputes of Lourdes.

But for this medical cure to be called a miracle, we must combine the medical approach with that of faith, medical healing not whistling.

It is for this reason that among the 7200 unexplained and declared cures in Lourdes, only 69 are described as miraculous.

The caution of the International Medical Committee of Lourdes pushes the Church to assess these situations for many years: example of the 69th miracle of Lourdes whose expertise lasted 24 years.

Is it then the last miracle of Lourdes? Will it be the seventy-fourth miracle heavy? These questions do not seem to be preponderant and crucial!

Indeed, beyond this battle of endless analyzes, let us remember that thousands of healings took place in Lourdes. And no matter what their qualification, miracle or not, these pilgrims know that grace has bent over them, touching them in their souls and bodies, thus offering them this new hope, a new life.
Retour sommaine Voir nos produits
Miracle Of Lourdes: Some Figures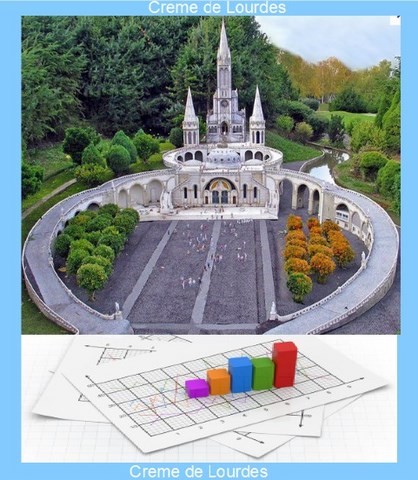 Of the 69 miraculous healings of Lourdes:

55 miraculously come from France, 8 from Italy, 3 from Belgium, 1 from Germany, 1 from Austria and 1 from Switzerland.
The miracles of Lourdes concern women at 80% and men at 20%.
2 years is the age of the youngest miracle (boy) and 64 years is the oldest age (woman).
5 miraculously are 22 years old.
More than 70% are under 40 years old.
13% of the miraculas are under 20 years old.
The average age of the last 10 miracles of Lourdes is between 31 and 32 years old.
72% of miracles are related to Lourdes water.
However, there are no statistics on the 700 cures that the authorities in Lourdes have found.
However, there are no statistics on the 700 healings that the Lourdes authorities have found.


Were there other french places of miracles before Lourdes?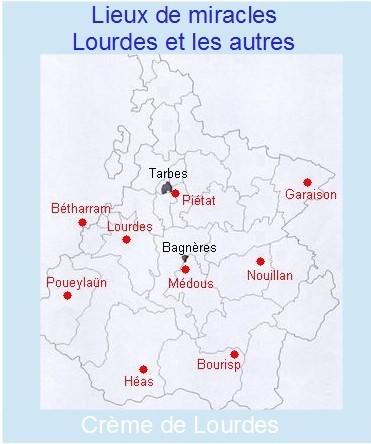 History reveals that Paris, alpine and Pyrenean regions celebrated at different times in the places where appeared the Virgin Mary, where miracles occurred, where pilgrimages are organized.
Let's start with Notre-Dame de Bétharam, located in the village of Bétharam, in the city of Hautes-Pyrénées, whose 17km separate it from Lourdes. Following the vision of Mary by shepherds, a church was built prior to the 16th century, burnt down in 1569 by protestants and then restored at the request of louis XIII. Close to the building, a fountain miraculously sank after years of dwindling in a cave, called Cave of Bétharam, high place of excursion for tourists to this day. It found 5,984,072 healings and miracles caused by water from this fountain. Strange coincidence of proximity between what was Bétharam and what is Lourdes today.

Another Pyrenean place, Notre-Dame de Garaison, who at the beginning of the 16th century, was built in Mauléon-Magnoac, village of the Hautes-Pyrénées 78 km from Lourdes. The testimony of a Shepherdess of twelve, witness of the apparition of the Virgin near a water fountain and marked by two miracles, transformed this place by the elevation of a chapel and a Gothic church in 1540. Miracles were so numerous that it gave him the name of Notre-Dame of healing, become more share Garaison.

Processions, pilgrimages established in these 2 Pyrenean places have over time eroded, or even displaced.
It should be noted in this area to other locations to the devotion of the Virgin Mary: Notre-Dame de Héas: Notre-Dame de Piétat in Barbazan, Notre-Dame de Piétat in Saint-Savin, Notre-Dame de Poueylaun, Notre-Dame de Bourisp, Notre-Dame de Nestes to Montoussé, Notre-Dame de funky at Aste, Notre-Dame des Vignes at Sainte-Marie-De-Siradan, Notre-Dame de Sabart in Tarascon sur Ariège, Abbey of Montserrat to Beatus, Notre-Dame de Celles in Ariège.

Saint-Severin in the 13th century until the former Augustinian Church close to the stock exchange in 1830 through Chapel of the Sisters of St. Vincent de Paul, the rue du Bac where water from the well dug at the foot of the statue allowed many miracles. Multiple cures were recorded at Notre-Dame des Victoires, which became the largest pilgrimage of the Virgin in Paris
In the 19th century, 16 years after the devotion to the Immaculate Conception in the Paris region, our Lady of La Salette, near body in Isère, takes over and the faithful offers another place of testimony of the apparition of Mary to two young shepherds. A source springs. The small fountain helped the pilgrims, the sick, travellers arrived on the plateau to drink this water. But the difficult access to this mountainous area especially for the sick will weaken the enthusiasm of the crowds for this miracle place, as much as 12 years later, in 1958, the Virgin appeared in Lourdes with the popular success that it knows.


Miracle 2014? and what a miracle in 2014?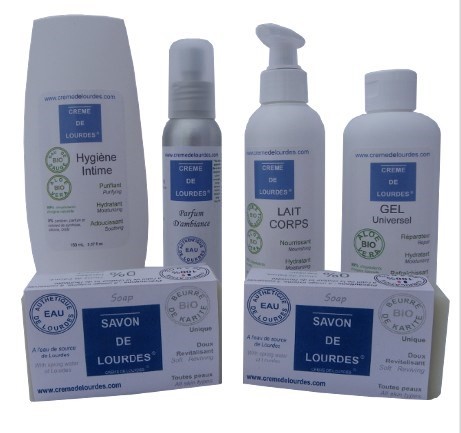 Nelson Rolihlahla Mandela, said Madiba, died December 05, 2013. A disappearance that makes cry all humanists of the world. At the age of 95, his soul is finally in peace and plane above us. His courage, his forgiveness, his fight against the political institutional system of racial segregation, apartheid, awarded the Nobel Prize for peace in 1993, illustrate the brilliance of his mind. It is and will remain a global symbol that we need every day inspire us to make the world a better, less communal, less selfish, more generous with the disadvantaged, the weak.
Six days later, on December 11, 2013, the François 1er is elected Pope person of the year 2013 by the American magazine Time. He succeeds to Barack Obama. For having changed the tone, the perception and the approach of the Church, for having left the papacy from the Vatican, for pushing the largest church in the world to face his deepest needs, for having made the balance between judgment and compassion, to finally unite the generations of young people with the oldest, Jorge Mario Bergoglio failed stance and has already marked the history of Christianity. Like St. Francis of Assisi, the saint of the poor, we hope that the voice of our Pope will radiate as deeply and with as much power as the unanimous tribute from around the world with the disappearance of Madiba.
Should you see a link, a sign between two planetary events of Christianity? The edge 2014 will be make it an extraordinary year in which peace and the reduction of poverty will be required in the most obscure leaders? Must one believe in this miracle or is this simply an illusion of the mind? Can matter! Until patients miraculously recover in 2014, let us daily to be guided by these great men and participate in our fair measure, modestly, to transmit a bit of self to others, to reach out to our loved ones, our neighbours, our friends, to strangers...
July 20, 2013: 69th miracle in Lourdes
Healing in 1989 of an Italian, Danila Castelli, victim of severe attacks of hypertension has been recognized miraculous June 20, 2013, by the Bishop of his diocese, in Pavia, Italy. Therefore, the 69th miracle of Lourdes.
Shrines welcomed the statement by the Bishop of Pavia, Bishop Giovanni Giudici, told the AFP Joel Luzenko shrines communication service. It allows to restore morale and enthusiasm to the Lourdais after the severe floods of last June.
Born January 16, 1946, Danila Castelli, wife and mother, began to suffer serious spontaneous hypertensive crises in 1980 at the age of 34, related shrines. From 1982, following radiological examinations and ultrasound a scan having highlighted the tumors producing catecholamines (hormones like epinephrine or dopamine) in the urogenital area, several surgical procedures were performed in the hope of eliminate points causing the crises of blood until 1988, with no results, add shrines.
In May 1989, during a pilgrimage to Lourdes, Danila leaves pools of the sanctuary where she was bathed and feels extraordinary well-being. She said her sudden recovery in the office of the medical findings of Lourdes. After five meetings in 1989 and in 2010, the bureau concludes: Ms. Castelli is healed, a comprehensive and sustainable manner, from his pilgrimage to Lourdes in 1989, 21 years ago, the syndrome which she suffered, and cela, without relations to interventions and treatments.

The dossier was referred to the international medical Committee of Lourdes, including 20 doctors and who has certified that its healing mode was unexplained in the current state of scientific knowledge. Ultimately, it is the Bishop of his diocese who said the prodigious and miraculous nature and value of this healing sign.
The cream of Lourdes team also welcomes such a miraculous event which became convinced of the beneficial virtues of the water of Lourdes.
Miracle of Lourdes in 2013?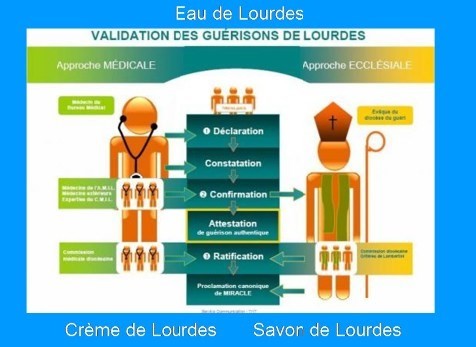 During their stay in 2013, if visitors to Lourdes have been healed in a manner exceptional, unusual, unexplained, sudden..., they can testify to the Office of medical disputes (BCM), whose address is sanctuaries our Lady of Lourdes 65108 Lourdes Cedex France.
As a result of the these evidence filed in the Office of medical disputes, the International Medical Committee of Lourdes (CMIL) will examine these issues. Imbued with medical and scientific requirement and not blinded by faith, the CMIL will decide on the miraculous aspect of these healings.
The review in question will be conducted by members of the CMIL, all physicians and / or professors of international fame: Dr. Franco Balzaretti, vascular surgery, Italy, Professor Gilles Berrut, gerontology, France, Professor Jean-Philippe Boulanger, psychiatry, France, Dr. Angela Campbell, gerontology, Scotland, Professor Christian Confavreux, Neurology, France, Dr. Denis Daley, Diabetology, Wales, Professor Jean-Marie Decazes, infectious and tropical diseases France, Dr. Alessandro de Franciscis, president of the Medical Office, France, Professor Alain Franco, internal medicine, gerontology, France, Professor Claude Gaultier-Gignoux, Pediatrics, functional explorations, France, Dr. Roger Jean-Charles, internal medicine, Nephrology, United States of America, Professor Claude Kenesi, orthopaedics, France
Professor Claude Labrousse, rheumatology, physical medicine and rehabilitation, France, Professor Magda Lodeweyckx, Pediatrics, Belgium, Dr. Eduardo Lopez of the Osa, gynaecology-obstetrics, Spain, Dr. Kieran Moriarty, hepato-gastro-enterology, England, Professor Marie-Christine Mouren-Simeoni, pedo-Psychiatry, France, Professor Jean-Yves Pouget, Neurology, France, Dr. Jean-François Pouget-Abadie, internal medicine, France, Professor Graziano Pretto, ORL, Italy, Professor Jacques Rouëssé, Oncology, France, Professor Fausto Santeusanio, Endocrinology, Italy, Dr. Patrick Theillier, former President of the Medical Office, France, Dr. Rolf Theiss, surgery, Germany, Dr. Martin Zabala y Morales, cardiovascular surgery, Spain.
Another association, bringing together health professionals (doctor, pharmacist, dentist, nurse, physiotherapist, speech therapist, caregiver...), called Medical Association Internationale de Lourdes (AMIL), accompanied during their stay, the pilgrims, the sick and provide first aid. They help by their experience to understand these healings.
The cream of Lourdes Team applauds volunteering for all persons which are services visitors to Lourdes.
Miracle of Lourdes 2012: 68th and 69th miracle in Lourdes?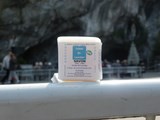 July 23, 1965, sister Luigina Traverso, attached to the diocese of Casale Monferrato (Italy), paralyzed leg left and regularly bedridden, travelled to Lourdes. During this pilgrimage after travelled to Lourdes water fountains and while she participates on a stretcher in the Eucharist, she feels a strong sensation of warmth and well-being that push it to stand. The pain disappears, his leg is teeming and sister found her mobility.
After several years of commissions, of meetings, of expertise, the Lourdes International Medical Committee confirms the unexplained nature of this healing.
Bishop Alceste Catella of Casale-Monferrato, decided then on October 11, 2012, to declare on behalf of the Church, that the unexplained healing of sister Luigina is a miracle, sign that God, creator of the world, in our time we invite to believe his love.
Sister Luigina Traverso thus becomes the 68th miracle of Lourdes.
But why is it the 69th miracle?
The healing of Serge François, announced in the media as the 68th miracle, had been recognized as remarkable (cured aged 56 on 12 April 2002, of a sciatic algie) in 2011 and not as unexplained by the experts of the international medical Committee of Lourdes. The Bishop of Angers where live Serge François, Bishop Emmanuel Delmas, had so wanted to make public this remarkable healing by an official announcement but without being able to call it a miracle.
In conclusion, there are therefore officially 68 miracles in Lourdes which 48 related directly to the water of the grotto of Lourdes.
But many cases are under consideration and he fort to bet that the 69th miracle of Lourdes will be announced in the coming months.
Heavy cream and SOAP of Lourdes accompany the world of research, medicine and science in his quest for the truth.
Miracles of Lourdes: drinking and washing water of Lourdes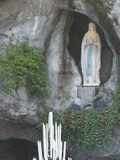 Since the Virgin Mary appeared to Bernadette Soubirous in 1858, very many people say have been healed at Lourdes through water from the cave.
In 1884, the Catholic Church has set up a structure, called 'Office of the medical findings', to analyze the statements and medically examine the rescued. This service, composed of medical experts, whose first quality is the careful, gives miraculous healing character in exceptional cases and rejects the authentication of miracle if a suspicion of a medical thesis exists.
This authentication process passes through three stages:

* Review by the Lourdes medical Bureau,
* International transfer to the medical office.
* Investigation by the diocese of origin of the healed person.
The diocese of origin of the healed person decides on the State of miracle. The meaning of healing is the main guide of the concerned Bishop (it must be a "sign from God" and not a simple healing).
68 healings have, to date, received the status of 'miraculous healing' after a process that can be spread over several years.
Official validation by Pope Benedict XVI to a sixty-eighth miracle (cure of French sister Marie Simon-Pierre's Parkinson's disease) is imminent.
The solemn blessings by priests and bishops is one of the most anticipated rites by pilgrims. Some patients allegedly cured at this precise moment, others in drinking water source, praying at the cave or, more often, after will be bathed in one of the pools.
One question arises: why so many miracle in Lourdes?
Inner peace, rest of the spirit, the purification of the body with the water of Lourdes are all tracks of reflexions; the cream of Lourdes accompanies these reflections!
Remembering Lourdes: our products cream of Lourdes
Next miracle in Lourdes: when the 69th miracle of Lourdes?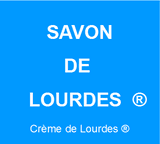 Many healings are found each year after patients have visited the Marian city. All these healings are considered very seriously by the Office of the medical findings of Lourdes. The Church and medicine study drastically every element that could contradict a miraculous healing.
Several folders are being diagnosis. Serious advances to say that soon one or two healings will be added to 68 other miracles of Lourdes.
Heavy cream accompanies the research world in his quest for the truth.
The dates of the 68 miracles of Lourdes
To date , 68 miraculous healings , unexplained by science, have been recognized by the Catholic Church.

So many people claim to have been cured at Lourdes. After hundreds of miracles announced nineteenth sièce , the Catholic Church has set up a structure in 1884 (the office of the medical findings ) to examine the statements, verify and authenticate miracles. She claims to be very cautious and extremely difficult to convince as a single case wrongly authenticated by this office and then denied by the medicine could have very serious consequences in the minds of believers. The authentication process involves three major steps: review by the medical office Lourdes transfer to the international medical office, investigation by the diocese of origin of the person healed.

The meaning of healing is then the main guide of the bishop concerned (it must be a "sign of God" and not just a healing ) .

To date , 68 cures have received the status of miraculous healing after a process that can take several years.

Only the first two steps have a truly scientific character ( the last step is essentially religious in nature ) and lead to a possible declaration of office on the character not explained scientifically at the time of healing. At this stage , doctors invited to speak are not limited only to the Catholic doctors. Attending doctor may attempt to offer a natural explanation for healing.
The basic criteria considered by the medical office are: the disease must have been itself authenticated and confirmed prior to the supposed healing diagnosis, prognosis must be completely clear doctors including when it comes to injuries permanent nature or a prognosis of death and healing should be complete, immediate , without convalescence, final and without relapse.
No treatment can be considered as the cause of healing, or have contributed .

These strict criteria quickly eliminate the vast majority of statements before their consideration by the religious authorities as evidenced by the records kept at the medical office, which are freely accessible.

What are the dates of soixante_huit cures of Lourdes recognized by the Church?

- 1862 7 1858 healings have been recognized Monsignor Laurence said Catherine Latapie Chouat Loubajac healed 1 March 1858 paralysis of ulnar type, traumatic brachial plexus elongation for 18 months, Louis Bouriette Lourdes cured 26 February 54 18582à trauma of the right eye dating back 20 years with amaurosis , Blaisette Cazenave born Soupéne Lourdes cured 50 years of chemosis or chronic ophthalmia with ectropion 3 years, Henri Busquet Nay (Pyrénées- Atlantiques) cured 28 April 1858 to 15 years adenitis 15 months , Justin Bouhort Lourdes cured 2 years July 6, 1858 a post -infectious chronic hypothrepsie with delayed motor development , Madeleine Rizan Nay (Pyrénées- Atlantiques) cured 58 years left hemiplegia for 24 years October 17, 1858 , Marie Moreau Tartas cured at 17 November 9, 1858 a significant reduction in inflammatory lesions mainly seen with right eye for 10 months.

- 1907 : 2 healing recognized by the Church Father Cirette Beaumontel cured at 46 31 August 1893 an anterolateral spinal sclerosis and Jeanne Tulasne Tours cured at 20 September 8, 1897 lumbar Pott's disease with clubfoot neuropathic .

- 1908 : 20 miraculous healings authenticated by the Church : Pieter De Rudder Jabbeke cured at 52 April 7, 1875 an open left leg fracture with pseudoarthrosis . Recognized 25 July 1908 , Joachime Dehant Gesves healed to 29 years September 13, 1908 an ulcer of the right leg with gangrene. Recognized April 25, 1908 , Sister Marie Mabille Bernay Eugenia healed 28 years of an abscess of the pelvis with bladder and bowel fistula bilateral phlebitis , Anne Joudain Goincourt Sister Josephine -marie cured at 36 August 21, 1890 a pulmonary tuberculosis , Clementine Found in Rusty (Vienna) sister Agnes -marie healed 14 years August 21, 1891 a bone fistulated péristite the right foot, Marie de Paris Lebranchu wife Wuiplier healed 35 years August 20, 1892 a pulmonary tuberculosis, Marie Lemarchand Caen wife Authier cured at 18 August 21, 1892 of pulmonary tuberculosis with face and leg ulcers , Elise Lesage BUCQUOY cured at 18 August 21, 1908 a tuberculous osteoarthritis of the knee, Sylvania Delporte Lille Sister Mary of the presentation healed 46 years August 31, 1893 anterolateral spinal sclerosis, Aurélie Huprelle of Saint- Martin -le- Bow healed 26 years August 21, 1895 of acute pulmonary Phiisie , Esther Brachmann Paris healed of 15 years August 21, 1896 of tubercular peritonitis , Clementine Malot Gaudechart healed 25 years August 21, 1898 of pulmonary tuberculosis Hémoptoïque Rose Labreuvoies wife Francis Parisguérie 36 years August 20, 1899 to cellulitis , fistulated right arm with enormous swelling, Reverend Salvador cured at 38 June 25, 1900 of tubercular peritonitis, Sister Maximilian Religious expectancy Marseille cured at 43 20 May 1901 of a hydatid cyst liver , phlebitis left lower limb , Marie Savoie healed 24 years September 20, 1901 a mitra rheumatic lite decompensated Dubos wife Johanna Bézenac Saint-Laurent -des- Sticks cured at 28 August 8, 1904 cachexia of unknown cause impetigo eyelids and forehead, Sister Lucia Jove Saint -Hilaire Peyreleau healed 39 years August 20, 1904 an abdominal tumor , Rosalie Vildier Sister Sainte- Beatrix Evreux cured at 42 August 31, 1904 a laryngotracheal bronchitis probably tuberculosis , Marie- Therese Noblet Avenay 's cured at 15 August 31, 1905 a lumbar spondylitis .

- 1909 : 1 miracle recognized by the Church : Cécile -de- Douville Franssu Tournai cured at 19 September 21, 1905 of tubercular peritonitis.

- 1910 : 4 miracles recognized by the Church : Loved Allope Vern d'Anjou healed 37 May 28, 1909 with many TB 4 cannulated anterior abdominal wall , Amélie Chagnon Poitiers Healed at 17 21 August 1891 abscess osteo- arthritis of the knee and foot tuberculosis , Marie Lucas wife Biré Sainte -Gemme- la-Plaine healed of blindness of cerebral origin , papillary atrophy bilateral Antonia Moulin de Vienne ( Isère) cured 10 to 30 years August 1907 fistula osteitis right femur with knee arthritis .

- 1911 : a miracle authenticated by the Church : Marie Borel Mende (Lozère ) cured at 22 17 May 1908 tuberculous cystitis, nephritis.

- 1912 : four healings authenticated by the church : Elisa Seisson Rognonas cured at 27 August 29, 1882 of a heart hypertrophy and lower limb edema , Aline Bruyére La Roque Sister Julienne healed healed 25 years 1 September 1889 cavitary pulmonary tuberculosis, Virginia Haudebourg of Lons -le- Saunier cured at 22 17 May 1908 tuberculous cystitis , nephritis, Marie Fabre Montredon (Lot) cured at 32 September 29, 1911 enteritis muco- membranous, uterine prolapse .

- 1913 : Recognized by the healing church Juliette Orion Saint -Hilaire -de- Voust healed 24 years July 22, 1910 of tuberculosis and larungée , suppurative mastoiditis left .

- 1946 : After 33 years of scarcity, one miracle was recognized by the Church : Françoise Captain Sister Marie- Marguerite de Rennes cured at 64 January 22, 1937 a left kidney abscess with phlyctenular edema and heart attacks.

- 1948: 1 healing authenticated by the Church Clauzel Gabrielle d ' Oran Healed 49 years August 15, 1943 rheumatic spondylosis .

- 1949 : another miracle is recognized by the Church : Francis Pascal de Beaucaire (Gard) cured at 3 years 10 months 31 August 1938 of blindness and lower limb paralysis .

- 1950: 2 more cures are authenticated by the Church Jeanne Fretel Rennes cured at 34 October 8, 1948 of tubercular peritonitis , Fulda Edeltraud Vienna Austria wife Haidinger healed 34 years August 12, 1950 of Disease Addison .

- 1951: 2 miracles authenticated by the Church Jamain wife Louise Master Paris cured at 22 on 1 April 1937 of intestinal and peritoneal tuberculosis, Pelin wife Jeanne Gestas Begles cured at 50 22 August 1947 disorders dyspeptic with postoperative occlusive accidents .

- 1952 : 1 another miracle authenticated by the Church : Marie- Thérèse Canin Marseille cured at 37 years 9 October 1947 Pott's disease and lumbar tuberculous peritonitis fistula .

- 1953 : a miracle verified and recognized by the Church : Paul Pellegrin Toulon cured at 52 October 3, 1950 an operative liver abscess fistula post .

- 1955 : one more miracle recognized by the Church Evasio Ganora Casale Italy cured at 37 June 2, 1950 of Hodgkin's disease .

- 1956 two miraculous healings authenticated by the Church : Alice Gourdon wife Couteault Bouille -Loretz cured a34 years May 15, 1952 of multiple sclerosis for 3 years , Marie Bigot de La Richardais cured at 31 8 October 1953 and 10 October 1954 arachnoiditis posterior fossa .

- 1957 : The Church recognizes January 1 miracle Henriett Bressolles Nice healed 32 years July 3, 1924 Pott's disease , paraplegia.

- 1958 : the church authenticates 2 more miracles : Brush Lydia Saint- Raphaël ( Var) cured at 41 October 11, 1930 of multiple tuberculous fistula with large detachments left gluteal region , Perona wife Rose Martin Nice cured at 46 year July 3, 1947 of cancer cervix .

- 1959 : the Church authenticates one miracle : Yvonne Fournier Limoges cured at 22 August 19, 1945 a post traumatic syndrome progressive left upper limb Leriche syndrome .

- 1960 : The Church recognizes two other miraculous healings : Maddalena Carini San Remo cured at 31 August 15, 1948 peritoneal tuberculosis, pleuropulmonary with coronary heart disease and bone , Brother Leo Schwager Freiburg cured at 28 April 30 1952 multiple Sclerosis 5 years.

- 1961: Church certified that a miracle : Sister Marie- Angèle Thea Mercedes Tettnang Germany healed 20 May 20, 1950 of multiple sclerosis for 6 years.

- 1963 : certified by the Church miracle : Ginette Fabre New wife Carmaux cured at 26 September 21, 1954 of the Budd- Chiari disease .

- 1965 : 2 miraculous healings certified by the Church : Elisa Aloi Varacalli wife Patti Italy cured at 27 May 5, 1958 a osteoarticular tuberculosis and multiple fistulas in locations right lower limb , Juliette Tamburini Marseille healed 22 years old July 17, 1959 a osteoperiostitis femoral fistulated , epistaxis 10 year old .

- 1976 : 11 years later, the Church renews certifying a miracle : Vittorio de Micheli Scurelle Italy cured at 23 June 1963 1 sarcoma of the left hip .

- 1978 : certified by the miracle church Serge Perrin Le Lion d'Angers healed 41 years on 1 May 1970 an iterative right hemiplegia with ocular lesions by bilateral carotid circulatory disorders .

- 1989 : 11 years later, another miraculous healing certified by the Church Celizia Cirolli wife Costa Paterno Italy healed 12 years December 24, 1976 of Ewing's sarcoma in his right knee .

- 1999: one more miracle recognized by the Church : Jean -Pierre Bely La Couronne cured 51 years 9 October 1987 of multiple sclerosis .

- 2005 : 67th recognized by the Church miracle : Anna Santaniello Salerno Italy cured at 41 August 19, 1952 of a heart failure by mitral valve disease due to rheumatic fever.

- 2012: 68th miracle declared by the Bishop of the Diocese of Casale Monferrato (Italy) against Sister Luigina Traverso , paralyzed left leg , and in 1965 regained mobility in his legs .

Other spectacular but not yet authenticated miraculous healings by the Church in the hands of the office of the medical findings and undergo a battery check to not let doubt the approximation including Serge François Angers cured at 56 April 12, 2002 sciatica neuralgia

Lourdes water conveying spiritual and divine wealth, has for over 150 years healed hundreds of people to the noble and simple virtues . This water and this divination earth jostled science , medicine to make way for miracle , the will of the mind and body.

Cream of Lourdes you in your daily life and in the quest for peace.

Remember Lourdes : our products Lourdes Cream
Miracle of Lourdes: what does heal today? Grand scientific symposium on health in Lourdes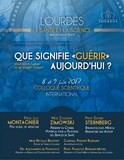 1st International Scientific Symposium at the sanctuaries of Lourdes on 8 and 9 June with the participation of Professor Luc Montagnier Nobel Prize for Medicine 2008.
The occasion, this year, the 20th anniversary of the world day of the sick, the Office of the medical findings of Lourdes organizes, on 8 and 9 June 2012, a scientific symposium, in coordination with the Medical Committee International Lourdes, under the auspices of the Pontifical Council for Health Services.
This will include to consider what means heal today in terms of reason and science, link - and not in opposition - with the influence of faith and prayer on human health.
Do not miss this extraordinary meeting with Professor Luc Montagnier, Nobel Prize of medicine.
Cream of Lourdes accompanies this exceptional event.