3 SOAPS in Lourdes
3 Cream of Lourdes SOAPS to the water of the grotto of LOURDES
The SOAP cream of Lourdes, composed from the spring water from the grotto of Lourdes, recognized for his psychosomatic and spiritual activity, will delight the delicate skin of the whole family.
The SOAP cream of Lourdes and its wonderful properties of argan oil, organic sweet almond oil and aloe vera bio, wake up your senses.
Lourdes, very soft cream, SOAP cleans and softens all skin types: juvenile, mature, sensitive to the cold, the Sun and pollution. Known for its soothing and anti-irritant, SOAP cream de Lourdes allows frequent use safe and respects the balance of the skin.
The SOAP cream of Lourdes, natural and exclusive, exudes a fragrance air and soft, which alone, broadcasts a wonderful feeling of well-being.
The product of beauty, SOAP cream of Lourdes, unique in its kind, is a real source of benefits for the body and soul.
Application of heavy cream SOAP:
Lather.
Gently massage.
Rinse thoroughly with pure water
The Lourdes cream SOAP is a product not tested on animals.
Main ingredients of the SOAP cream of Lourdes:
Paste to certifiable organic SOAP 100% vegetable and 100% manufactured in the southwest of the France
Argan oil, almond oil bio bio sweet and aloe vera
100% of the total ingredients are from natural origin which 84% from organic farming.
The Lourdes cream SOAP is wrapped in a natural paper water resistant.
Network Internet heavy cream

The water of Lourdes: spring water from the Grotto free and accessible to all
All cream of Lourdes with the SOAP of Lourdes products contain the spring water from the grotto of Lourdes.
Knowing that Lourdes Water is free and free access to all, taking account of this water in our cream of Lourdes products does not enter their cost of returns.
It is graciously added in all our cosmetics and body hygiene.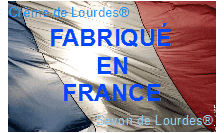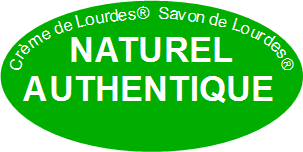 Garantie eau de Lourdes