Space Media Press
Publication TOP SANTE du 20/07/2019 : savon BIO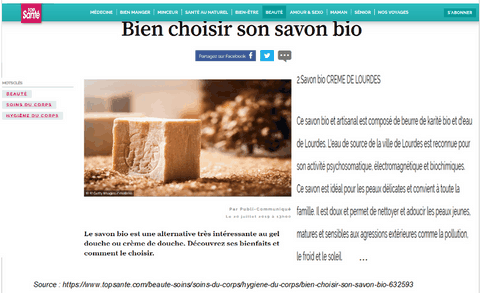 Dans un article publié sur TOP SANTE le 20 juillet 2019, le savio BIO fait un retour en grace.
Plus écologique, car contenant des produits naturels et donc pas de produits potentiellement mauvais pour l'environnement, Il est également très bon pour la peau puisqu'il contient une association d'huiles essentielles. Il est aussi plus économique sur le long terme, car un savon dure beaucoup plus longtemps qu'un gel douche. Enfin, il est parfait pour les voyageurs, car il ne prend pas de place.
Parmi les 5 savons mis en avant : Savon d'Alep MKL, Savon surgras BIODERMA, Savon liquide tonifiant FLORAME, Gel lavant corps et cheveux bébé CENTIFOLIA, le Savon bio CREME DE LOURDES est en deuxième position.
Flyer d'été 2017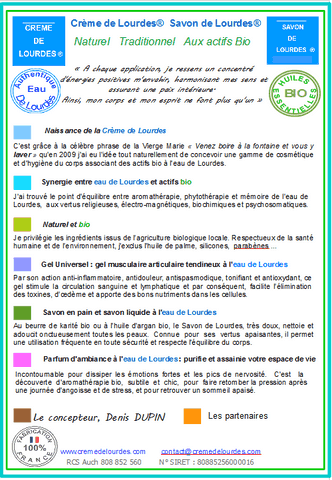 Nous recherchons et développons régulièrement des supports de communications, offrant l'essentiel des informations de CREME DE LOURDES.
En ce sesns, et afin de promouvoir nos produits Crème de Lourdes, nous avons rédigé un support A5 sur lequel nous expliquons les bienfaits des cosmétiques et hygiènes du corps Crème de Lourdes.
Vous pouvez également le télécharger en clicquant sur l'image ci-contre.
Magazine TOULOUSE MAG February 2014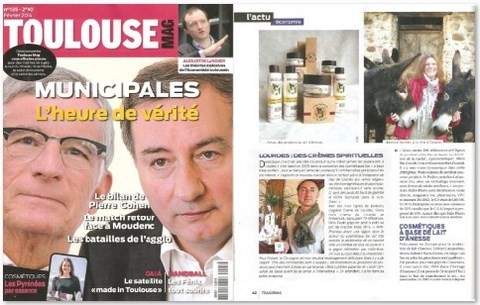 Regional press article: Magazine TOULOUSE MAG published 30/01/2014 which cuta ecomiqie unveils the sector of the cosmetics in France which the cream of Lourdes draws his own.






Company: monthly March 2013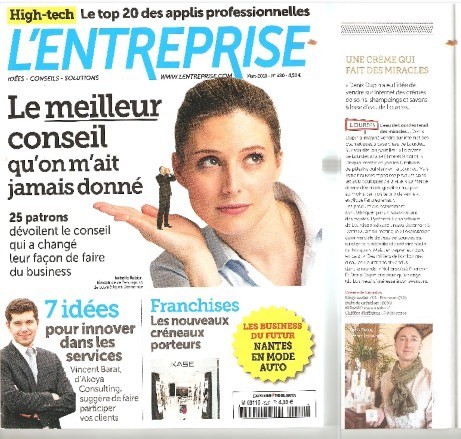 The magazine monthly company, magazine dedicated to ideas, tips and solutions of the entrepreneurial world, wrote an article on the cream of Lourdes in its issue of March 2013.








Next release / November 2012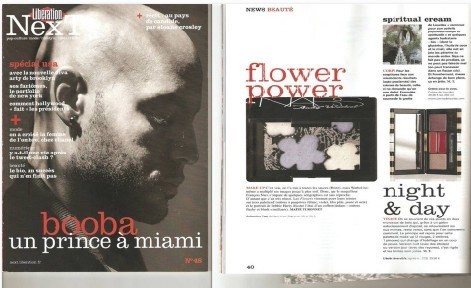 Find an article on the cream of Lourdes last edited in the magazine monthly very trendy NEXT release of November 2012