Bracelet AQUA MEMO
Lithotherapy of excellence
This bracelet is composed only of gemstones:
30 beads of 4 millimeters in diameter: 15 Rose Quartz beads and 15 rock crystal beads:

€29,90

or 22 beads 6 mm in diameter: 11 Rose Quartz beads and 11 rock crystal beads:

€39.90

or 18 pearls of 8 millimeters in diameter: 9 Rose Quartz beads and 9 rock crystal beads:

€49.90
These natural stones are connected by an elastic marrying all the rounds of wrist. Its length is 18cm.
Each bracelet is assembled in our laboratory. What makes a unique and authentic piece.
It is presented in a plastic case transparent and airtight containing 30 ml of water of Lourdes at high dilution. This bath deep clean this jewelry. It is thereby dusted off all the negative vibes surrounding. The memory of water of Lourdes will take its place during the expedition. By this technique, it will collect all or a part of 150 years of the history of the Marian city of Lourdes.
Upon receipt, you can put it on your wrist. Its properties will act immediately.
This article meets the Decree No. 2002-65 of 14 January 2002 on trade of gemstones and pearls:
Rose quartz is a variety of quartz colored by metal oxides, manganese, titanium or dumortierite microinclusions. The outstanding deposits are found in Madagascar and the Brazil, but also in the United States, in Poland.


BRACELET AQUA MEMO : Fiche Détail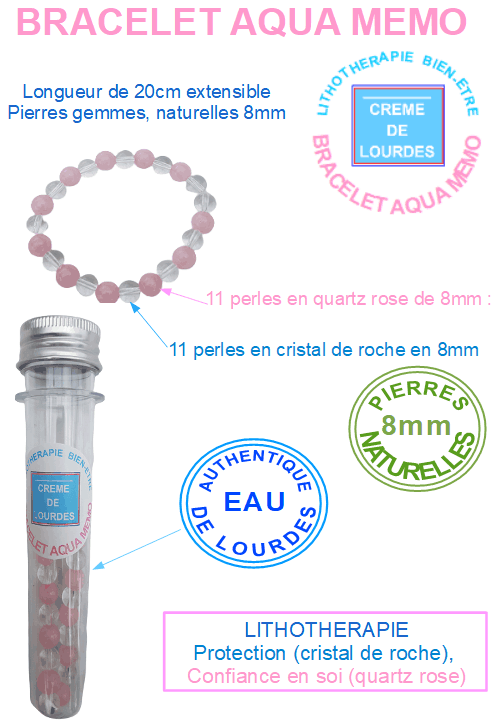 Properties of pearls:
Le cristal de roche :

Il est capable de décomposer la lumière dans toutes les nuances de l'arc en ciel.
Il est neutre et peut être employé sur tous les chakras, pour tous les usages. Il peut être utilisé en association avec toutes les pierres de couleurs car il peut se parer de leurs propriétés.
Il apaise aussi le système nerveux.
Doté d'une puissante énergie, il procurerait une excellente protection et revitaliserait en profondeur.
Le quartz rose :
Cette pierre est réputée consolatrice. Elle est censée guérir les blessures tant physiques qu'émotionnelles. Son contact rassure, renforce la confiance en soi et la capacité de s'accepter tel que l'on est. Lié au chakra du cœur, le quartz rose faciliterait la respiration et renforcerait les sentiments d'amour.
Le quartz rose apaise et rassure, il ouvrirait l'esprit à la spiritualité et aiderait à réparer les traumatismes subis dans le passé. Elle accroîtrait aussi la sensibilité et l'empathie pour mieux s'ouvrir aux autres.
Il fournirait une protection à la surexposition aux ondes diverses et variées qui traversent nos maisons.

Avertissement :
Les propriétés et indications de ces perles sont issues des ouvrages ou sites Internet de référence.
Ces informations sont données à titre informatif.
Elles ne sauraient en aucun cas constituer une information médicale, ni engager notre responsabilité.
En cas de problème de santé, consultez toujours votre médecin et n'abandonnez jamais le traitement prescrit par votre médecin.